Coronavirus pandemic: How safe is it to use public swimming pools?
Comments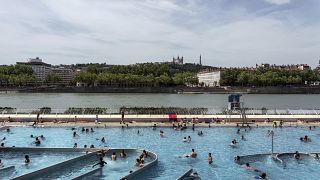 -
Copyright

AP Photo/Laurent Cipriani
With the mercury climbing up across Europe, many are looking to cool off in swimming pools— but are they safe?
According to the US Centers for Disease Control and Prevention (CDC), there is currently no evidence that SARS-Cov-2, the virus that causes COVID-19, can be spread to people through the water in pools, hot tubs, or water playgrounds.
"Additionally, proper operation of these aquatic venues and disinfection of the water (with chlorine or bromine) should inactivate the virus," it said.
Community swimming pools have reopened in several countries across the European Union, including France, Italy, Spain and Germany.
Swimmers are encouraged to wear a mask when outside the water and to regularly clean their hands. Strict social distancing rules must also be respected.
In France, the national health agency ruled that capacity at indoor swimming pools must not exceed one swimmer per square metre of water.
"However, it seems safer to count two bathers for every three square metres, or even one per two square metres," it said.
Outdoor venues can have three bathers for every two square metres of water.
In countries where community swimming pools remain closed, like the UK, people have instead flocked to the seaside or freshwater locations.
The dilution effect
For the European Centre for Disease Prevention and Control (ECDC) — which also noted that there is no data on the survival of SARS-Cov-2 in seawater — the dilution effect should contribute to "decreasing the viral load and salinity may contribute to viral inactivation, as it occurs with similar viruses."
It added that the survival of the virus is expected to be higher in the untreated water of rivers, lakes and freshwater pools as they're less likely to have viral inhibitors like chlorine or salt or if they do, to a lesser extent.
Again, social distancing inside and outside the water appears to be the most effective at lowering the risk of contracting COVID-19.
Authorities in Bournemouth, a British coastal town some 160 kilometres south-west of London, declared a major incident in late June after thousands flouted social distancing rules and amassed on a local beach.
On July 5, at least 29 beaches in Málaga in the south of Spain were shut by authorities because of overcrowding, the local Sur newspaper said.
Transmission of the virus is particularly effective in crowded places, the ECDC stressed, adding that a review of more than 170 studies into the risk of transmission found that distances of at least one meter, the use of face masks and eye protection were associated with a much lower risk of transmission.