New French government named under Prime Minister Jean Castex in Macron reshuffle
Comments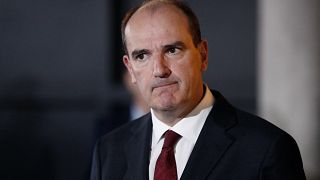 -
France's new government under Prime Minister Jean Castex has been announced in a reshuffle, which will be entrusted to aid the battered economy and breathe new life into Emmanuel Macron's presidency.
The new team was announced on Monday evening (July 6) by an Elysée spokesman following prolonged discussions between the president and prime minister.
Among the main changes are the replacement of Interior Minister Christophe Castaner by Gérald Darminin, previously one of the youngest members of the previous government under Edouard Philippe, who is now promoted.
Castaner's time in the interior ministry coincided with a wave of protests over alleged policy brutality in the wake of George Floyd's death in the United States.
In a move reported as a big surprise by French media, criminal defence lawyer and ex-Socialist Party supporter Eric Dupond-Moretti is named Attorney General.
Roselyne Bachelot, formerly a member of Nicolas Sarkozy's government, returns to office as culture minister.
To help deliver on his promise of a greener agenda, Macron has appointed Barbara Pompili as minister for ecological transition. She headed a parliamentary committee on sustainable development and served in François Hollande's socialist government.
Three senior positions see no change: Jean-Yves Le Drian remains as foreign minister, while Bruno Le Maire as finance minister and Jean-Michel Blanquer also remain in place.
Little-known Castex prepares for action
New Prime Minister Jean Castex was virtually unheard of in France before his appointment on Friday.
The 55-year-old was previously a local mayor from the Pyrenees and had been overseeing France's exit from coronavirus lockdown. He also worked for former President Nicolas Sarkozy's administration at the Elysée and was a member of the right-wing "Les Républicains" (LR) party.
He replaces former prime minister Edouard Philippe, as Macron prepares the campaign ahead of the 2022 presidential elections.
The president's centrist Republic on the Move (LREM) party was dealt a blow during local elections on June 28, with green parties winning the key cities.
LREM is also under pressure from the economic devastation triggered by the coronavirus pandemic.
France's central bank said in June the economy would take two years to recover from its worst post-war recession and up to a million jobs are at risk.
Macron said on Twitter on Sunday a "new path" was necessary and that the economy and environment topped the government's priorities.
The AFP news agency reported an aide to Macron, who asked not to be named, said there would be "new talent" and "people who have come from different horizons".
A new team of junior ministers in the government are to be named later.