Coronavirus latest: US COVID-19 deaths exceed 90,000
Comments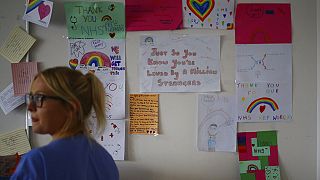 Summary of the latest key developments:
No plan to scrap the €698 surcharge fee migrant care workers must pay to access NHS, UK government said

Public church services in Italy resume as shops and restaurants reopen

Chinese Premier Xi Jinping insists country was transparent with information
Follow the latest updates below:
05.18.2020
22:56
US COVID-19 death toll exceeds 90,000
A total of 90,312 people have died from the novel coronavirus in the US as of Monday, according to a tally kept by the Johns Hopkins University.
The country has also now recorded more than 1.5 million confirmed infections. 
05.18.2020
22:53
Acropolis reopens after two-month coronavirus shutdown
Greece has reopened the Acropolis as well as all of its outdoor archaeological sites.
Sixty days after it closed to the public, the world-famous hill is now again ready to welcome visitors from all around the world.
However, this summer will be different. Only a limited number of tourists will be allowed on the Acropolis and they will have to respect social distancing rules.
The site can host around 2,000 people at the same time and the use of masks is strongly advised.
05.18.2020
22:34
Trump announces he's been taking hydroxychloroquine
The US President said on Monday that he's been taking the anti-malaria drug for a little over a week to prevent symptoms should he get the novel coronavirus.
The drug has not been proven effective to combat the disease. 
05.18.2020
22:24
How the English Premier League aims to resume the 2019/2020 football season
The return of Premier League football moved one step closer on Monday following a virtual meeting between clubs and shareholders.
Squads of players will now return to training on Tuesday while maintaining social distancing measures.
The decision was voted on unanimously by shareholders as the Premier League progressed with attempts to restart the 2019-20 season "when safe to do so".
05.18.2020
21:39
France top court orders government to reopen places of worship
France's Council of State, the country's highest court, has ordered the government to lift its ban on gatherings at places of worship.
It said that
"freedom of worship, which is a fundamental right, also includes among its essential components the right to participate collectively in ceremonies, in particular in places of worship."
It gave Prime Minister Edouard Philippe eight days to lift the blanket ban and instead called on the authorities to "adopt measures strictly proportionate to health risks and appropriate at the start of this 'de-confinement'."
05.18.2020
21:27
UN chief slams countries for ignoring WHO advice
Calling for an "end to the hubris", Antonio Guterres said the pandemic should serve as a "wake-up call" to a world which needs to be more united in its response to crises.
By ignoring the WHO's advice, the UN Secretary-General said the virus has spread to poorer countries where it "could have even more devastating effects".
Calling the WHO "irreplaceable", he insisted it needed more resources to support developing countries.
05.18.2020
20:48
Analysis: Should children go back to school during a pandemic?
05.18.2020
20:19
Shakespeare's Globe theatre warns of risk of closure
London's Globe Theatre is has warned it faces "insolvency and closure" due to the COVID-19 pandemic, the Digital, Culture, Media and Sport parliamentary committee (DCMS) has revealed.
In a letter Britain's Culture Secretary, the DCMS called on the government to "step up for cultural institutions", creative industries and its freelance workers. It urges the government to go beyond the emergency funding that has been announced and to be prepared to meet long-term needs.
"Shakespeare's Globe is a world-renowned institution and not only part of our national identity, but a leading example of the major contribution the arts make to our economy. For this national treasure to succumb to Covid-19 would be a tragedy," DCMS
chair Julian Knight MP said
. 
05.18.2020
20:07
France records 131 new deaths

17,589 of the fatalities were recorded in hospitals with the remaining 10,650 were registered in care homes.
05.18.2020
18:52
No change to £625 fee for migrant care workers, says UK minister
The British government has no plan for now to amend its rule whereby migrant care workers have to pay an £625 (€698) surcharge fee to access the NHS.
Foreign Secretary Dominic Raab said however that the rule is being kept under review.
But he praised the "exceptional" contribution made by non-British care workers.