Coronavirus latest: Italy second European country to reach 30k COVID-19 deaths
Comments
By Euronews with AP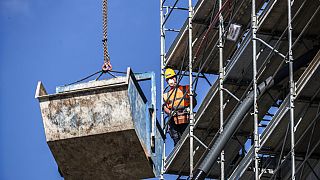 Key developments
Italy on Friday became the second European country to officially record more than 30,000 COVID-19 deaths
US unemployment reached its highest level since records began in 1948 with 20.5 million jobs lost in April, official figures show
WHO 'deeply troubled' by a spike in domestic violence in locked down Europe
Banksy pays tribute to 'superhero' nurses in new piece donated to hospital
Boris Johnson is to unveil the UK's lockdown exit roadmap on Sunday
**Paris and three northeastern regions will have stricter rules than the rest of France on May 11 when the first restrictions are lifted, ministers have announced
**WHO warned that between 83,000 and 190,000 could die from COVID-19 across the African continent this year if containment measures fail.
Belarus, Kazakhstan, Russia and Ukraine seeing an increase in cases, says WHO
Nine die in Hungary after being ejected from hospital to free space for COVID-19
Latest updates
05.08.2020
22:46
That's it from our live blog today. 
05.08.2020
22:21
Queen Elizabeth says 'streets are filled with love' as she references coronavirus during VE Day Speech 
She said: "Today may seem hard that we cannot mark the special anniversary as we would wish. 

"Instead, we remember from our homes and from our doorsteps. But our streets are not empty.

"They are filled with the love and the care that we have for each other. 

"And when I look at our country today, and see what we are willing to do - protect and support one another - I say with pride that we are still a nation those brave soldiers, sailors and airmen would recognise and admire." 
05.08.2020
21:42
Thousands protest against government in Slovenia's capital Ljubljana 
Protesters rode their bikes around the capital to protest for a third week in a row against the country's centre-right government. 

The demonstrations were sparked after alleged political pressure was revealed during the purchasing of protective equipment during the coronavirus pandemic. 

Many of the protesters on Friday wore masks as they undertook the march. 
05.08.2020
21:28
US unemployment at 14.7%: record 20.5M jobs wiped out in April
05.08.2020
20:40
Socially distant ceremonies across Europe to mark 75th anniversary of VE Day
05.08.2020
19:31
France's death toll rises by 243
A further 243 people have died from COVID-19 in France over the previous 24 hours, authorities have just announced.
The country's death toll from the pandemic now stands at 26,230. 
05.08.2020
18:37
EU Commission advises borders remain closed until June 15
The Commission invited members of the Schengen area to extended restrictions on all non-essential travel to the EU for another 30 days, until 15 June.
"While some EU and Schengen Associated States are taking preliminary steps towards easing the measures for fighting the spread of the pandemic, the situation remains fragile both in Europe and worldwide," the Commission said in a statement.
"This calls for continued measures at the external borders to reduce the risk of the disease spreading through travel to the EU," it added.