WHO reports 16,000 COVID-19 deaths worldwide, lists 'key actions' to control the pandemic
Comments
By Euronews with AP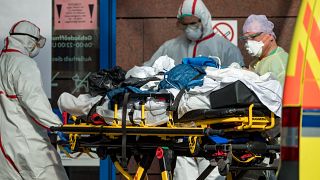 -
The World Health Organization (WHO) director-general Dr. Tedros Adhanom Ghebreyesus said during a WHO briefing on Wednesday that over 16,000 people worldwide have died of the COVID-19 coronavirus pandemic.
Warning that many more would follow, Ghebreyesus added that how many more people the world would lose would be "determined by the decisions we take now".
He called on all countries implement six "key actions" to control and suppress the spread of the virus:
"First, expand, train and deploy your health care and public health workforce;
Second, implement a system to find every suspected case at community level;
Third, ramp up the production, capacity and availability of testing;
Fourth, identify, adapt and equip facilities you will use to treat and isolate patients;
Fifth, develop a clear plan and process to quarantine contacts;
And sixth, refocus the whole of government on suppressing and controlling COVID-19."
"These are the best measures to suppress COVID-19 and prevent resurgence", Ghebreyesus said.
"We have overcome many pandemics and crises before, we will overcome this one too. The question is how a large price we will pay."
He added that the WHO is "especially concerned about vulnerable countries" and said the pandemic would be an additional, "acute humanitarian crisis" for such countries. The WHO, alongside the UN and Unicef, will launch a "global humanitarian response plan" to support these countries.
Ghebreyesus said that the WHO's COVID-19 solidarity resource fund has already received $95 million.
Ghebreyesus also thanked the Japanese government and the International Olympic Committee for their "difficult but wise" decision to postpone the Tokyo 2020 Olympic Games to 2021.
Watch back by clicking on the player above.