The tiles on this Danish square help tackle air pollution
Comments
By Mie Olsen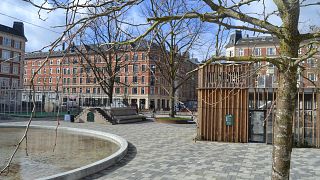 -
A square in Copenhagen is using a groundbreaking design to fight back against air pollution.
The tiles of Langelands Square, in the Frederiksberg district of the Danish capital, have a special coating that helps absorb nitrogen dioxide (NO2).
NO2 is one of the harmful pollutants from transport and is thought to be responsible for tens of thousands of premature deaths in Europe each year.
The tiles are coated with titanium dioxide, a fairly common mineral that turns the NO2 into a harmless solid.
"Imagine that NO2 is a gas flying in the air," said Michael Humle, the CEO of Photocat, the company that delivered the solution.
"When it hits the surface of these tiles, titanium dioxide will cause it to transform into a solid substance.
"This substance is nitrate, which is completely harmless and absorbable by plants."
Every 50 square meters of tiles on Langelands Square will remove 1 kilogram of NO2, roughly what one car emits in a year.
But the tiles don't just help to tackle air pollution - they are good at absorbing rainwater, helping to stop the sewers from becoming overloaded.
While the technique of coating tiles with titanium dioxide is widespread in Asia, it has been very limited in Europe so far, said Humle. You´ll find it on public squares in Spain but not in this multifunctional arrangement with permeable tiles, he said.