Authorities probe motive as injury toll rises in Volkmarsen car ramming
Comments
By Euronews with AP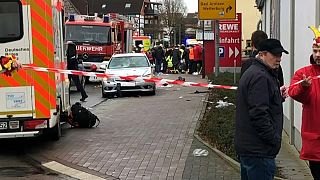 -
Police in Germany are continuing their investigations "in full swing" after a man drove a car into crowds celebrating Carnival in the town of Volkmarsen on Monday.
They say the number of injuries reported has risen to nearly 60 people, including at least 18 children.
35 people remain in hospital on Tuesday for treatment, while a further 17 suffered minor injuries and have been released.
The General Prosecutor General's Office in Frankfurt has opened an investigation into "attempted homicide".
Authorities say they are still searching for a motive behind the incident.
A 29-year-old German man from Volkmarsen, believed to be the driver of the vehicle, was arrested at the scene and has also received medical treatment after sustaining injuries.
The vehicle used, a silver Mercedes, was registered to the driver, police spokesman Henning Hinn said.
A second individual was detained in Volkmarsen on Monday, accused of violating privacy rights by filming the scene of the crash.
Police have urged citizens not to circulate photos of the alleged suspect on social media.
The crash in Volkmarsen, about 280km southwest of Berlin, came at the height of Germany's celebration of Carnival, on Rosenmontag (Rose Monday).
Other Carnival parades in the central state of Hesse planned to resume on Tuesday with increased police presence.
Head of State Frank-Walter Steinmeier said on Facebook that he was "deeply shocked" by the incident and sent his best wishes to those injured in the incident.
German Chancellor Angela Merkel added that "my thoughts are with the injured by Volkmarsen and their relatives."
Local Bundestag member Timon Gremmels tweeted that he was "simply stunned" that some who target "the lives of adults and children who just wanted to celebrate on Rosenmontag".
The incident in Volkmarsen comes less than a week after nine people were killed during shootings in Hanau, in the same state of Hesse, which targeted shisha (hookah) bars in the city.