Spanish left-wing coalition fails to secure support in first vote
Comments
By Euronews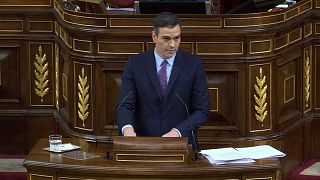 Spain's interim Prime Minister Pedro Sánchez has failed in his first attempt to get Parliament's backing to form a coalition government.
As expected, Sánchez fell short of securing an absolute majority, receiving only 166 votes out of the 176 needed.
"The same proposal must be put to vote again in 48 hours", the parliament speaker told the Spanish house, the Cortes Generales.
This leaves Sanchez two days to secure enough support to end eight-months of political gridlock.
On Tuesday, Sanchez will only need a simple majority, which is more votes in support of his coalition than votes against.
Earlier this week, Sanchez and Pablo Iglesias, the leader of the far-left "United We Can" party, restated their intention to form the first coalition government in Spain's recent history.
He is likely to get that after securing a commitment from Catalonia's largest separatist party to abstain.
But their support has come at a heavy political price for Sánchez, who has agreed to talks between Spain and Catalonia over the future of the region.
Spain's right-wing parties say he is putting the nation's territorial integrity at risk, despite his promise to not allow a Catalan referendum on independence that would violate the Spanish Constitution.