Jeffrey Epstein: Prison guards accused of not checking on inmates around time he committed suicide
Comments
By Euronews with NBC News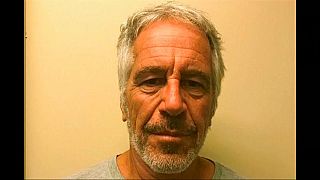 Two jail guards at Manhattan's MCC prison facility — where Jeffrey Epstein committed suicide — have been charged with falsifying records, prosecutors investigating the late financier's death have announced.
Both individuals, named as Tova Noel and Michael Thomas, are in custody.
The two men are accused of not carrying out rounds to check on inmates during the night shift between August 9 and August 10 and falsifying documents to show that they had, the US Attorney's Office said in a statement.
It claimed the two men didn't conduct any of the required 30-minute rounds between approximately 10:30 pm and 06:30 am.
"Instead, for substantial portions of their shifts, NOEL and THOMAS sat at their desk, browsed the internet, and moved around the common area of the SHU," the statement alleged.
Epstein, 66, was found dead in his cell on the morning of August 10. A coroner's report into his death confirmed it as suicide.
"As alleged, the defendants had a duty to ensure the safety and security of federal inmates in their care at the Metropolitan Correctional Center. Instead, they repeatedly failed to conduct mandated checks on inmates, and lied on official forms to hide their dereliction," US Attorney Geoffrey Berman said.
They have both been charged with one count of conspiring to defraud the US by impairing, obstructing, and defeating the lawful functions of the MCC and to make false records for which they face up to five years in jail.
Both have also been slapped with additional counts of making false records, each of which carries a maximum sentence of five years in prison.
The financier, a convicted sex offender who had been jailed in Florida in 2008 for procuring a minor for prostitution, had been arrested on July 6 upon returning to the US for a trip in Paris and charged with sex trafficking.
He was accused of arranging for girls under the age of 18 to perform sex acts between 2002 and 2005 at his homes in Florida and New York. He denied the allegations.
His arrest caused a ripple because Epstein was connected to some of the world's most powerful people having been associated with former US President Bill Clinton, current President Donald Trump, and UK's Prince Andrew.
The Queen's third child has been embroiled in the scandal after Virginia Guiffre — then Virginia Robert — alleged she had been forced to have sex with the prince when she was 17.
READ MORE: Prince Andrew ridiculed for 'car crash' interview over Epstein scandal