Fire engulfs market in Nigeria's commercial capital Lagos
Comments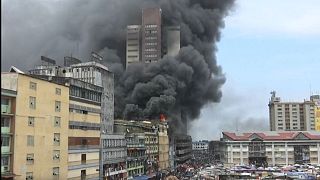 Market buildings are ablaze in Nigeria's commercial capital, Lagos, after a massive fire broke out in the centre of the city.
Huge flames and black smoke have engulfed the top section of a building in the popular Balogun Market on Lagos Island.
The fire appears to have broken out in the upper section of a five-storey complex containing a textile business on Martin Street.
A spokesperson for the Lagos State Fire Service said they had received multiple calls of a fire at 10.03 on Tuesday and there had been no casualties reported.
Authorities say they are now in control of the situation and the fire will be out "in no time".
At least four firefighting vehicles are in attendance, but the Lagos State Fire Service said they had struggled to approach the fire as access to the site was blocked by market stalls.
It is not yet known what caused the blaze.
Goods were being thrown out of the windows to save stock, while men on the roof of neighbouring buildings have tried to put out the flames themselves using buckets of water.
Trig-H, who imports female footwear to the market, told Euronews he was unable to rescue any of his goods.
"I could not enter the furnace, the heat is so heavy that [you] can't get close to the particular building."