Farmers fail in bid to sue German government over alleged climate change failures
Comments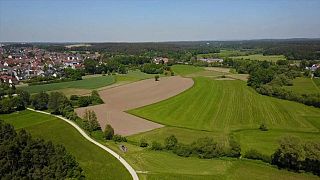 A lawsuit filed against the German government for its alleged failure to meet climate change targets has been dismissed, say authorities.  
Three families of organic farmers say they have been hit by changing weather patterns and blame the German state.
But the case was thrown out as inadmissible by the Berlin Administrative Court, who said the 2020 targets were not legally binding.  
It comes after German Chancellor Angela Merkel announced a €50 billion environment package, but critics have argued this is too little, too late.
Lisa Göldner is a climate change expert with Greenpeace and she spoke to Euronews before the decision was made. 
"Since 2007 the German government has repeatedly said that they want to reduce greenhouse gas emissions by 40% by the year 2020, and that is a lot of measures the government could take to reduce those emissions, the most obvious one is to shut down the coal power plants as they are still one of the biggest greenhouse emitters in Germany," she said.
"As one of the richest industrialised countries in the world, Germany has a special responsibility, also to account for historic emissions that it has already put into the atmosphere. So it is clear that the German government has to act now… we are asking the court to immediately step in to force the government to comply with the targets that they set (themselves)."
Euronews's correspondent Jessica Saltz reporting from the Berlin Administrative Court said the effects of climate change has been very drastically felt by farmers who have seen over the last 2 years alone, these farmers have seen dramatic floods in 2017 and then draughts in 2018.