Kurds will be removed from Turkish 'safe zone' in Syria after Russia-brokered deal
Comments
By Euronews with Reuters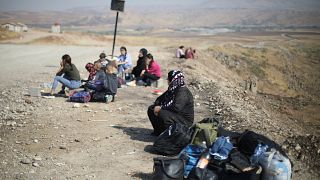 -
Copyright

Sputnik/Alexei Druzhinin/Kremlin via REUTERS
Turkey and Russia struck a deal on Tuesday to remove Kurdish-led Syrian forces to beyond 30 kilometres in some areas from the Turkish border.
The agreement comes after the U.S.-negotiated five-day ceasefire ended on Tuesday. According to the new Turkish-Russian deal, Syrian and Russian forces will deploy to remove YPG forces and weapons in a mission expected to take six days.
The YPG is a component of the Syrian Democratic Forces (SDF) which fought alongside US troops in the fight against the so-called Islamic State for years.
"The main aim of the operation is to take out PKK/YPG terror organisations from the area and to facilitate the return of Syrian refugees," Erdogan told a joint news conference with Putin.
Ankara regards the YPG as terrorists because of their ties to the outlawed Kurdistan Workers Party (PKK), which is waging an insurgency in southeast Turkey. Ankara has long sought a "safe zone" along the Turkish border in northern Syria.
Kristian Brakel, from the German Council on Foreign Relations in Istanbul, told Euronews it was "significant in the sense that Erdogan walked away from this deal with something that he can present at home as a win."
"[Erdogan] managed to get the YPG, managed to get the PKK from the border but he had to pay a price for it and that it, of course, restarting cooperation with the Assad regime because the Assad regime is the force that will take over the rest of the border and will operate border crossings with Turkey again."
"The outcome of the Putin-Erdogan meeting in Sochi today indicates that Erdogan has become a master of leveraging the U.S. and Russia against each other to maximize Ankara's gains: Turkey got the safe zone it wanted all this time," Soner Cagaptay, the Director of Turkish Research Program at The Washington Institute for Near East Policy, tweeted.
"This operation also guarantees Syria's territorial integrity and political unity... We never had any interest in Syria's land and sovereignty," Erdogan added.
Erdogan added that Ankara would also work with Moscow for the safe return of Syrian refugees now in Turkey.
Both countries hailed the deal as a triumph that would end the bloodshed in the region.