Hurricane Dorian bashes Bahamas, weakens to category 2 storm
Comments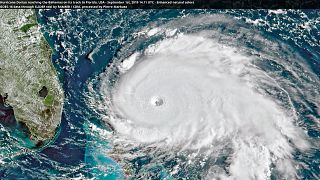 -
Dorian weakened on Tuesday but was heading north-westward and growing in size, moving "dangerously close" to the Florida east coast late Tuesday through Wednesday evening, the US National Hurricane Center (NHC) said.
Dorian, now a Category 2 storm on the five-step Saffir-Simpson Wind Scale, is located about 170 kilometres east of Fort Pierce, Florida, with maximum sustained winds of 175 km per hour.
The second-strongest Atlantic storm pounded the Bahamas islands, killing at least seven people and causing widespread flooding.
Hurricane Dorian: Before-and-after images show extent of flooding on the Bahamas
A warning from the National Hurricane Center late Monday night said that Dorian would continue to pound the islands for "several more hours" and warned residents to remain sheltered.
It said that the storm would now make its way towards Florida, Georgia and North Carolina, bringing heavy rains and flash floods for the rest of the week.
The Bahamas Press reported on Twitter that a 7-year-old boy had drowned in the northern Bahamas, becoming the first recorded fatality of Dorian. Later on Monday, the Prime Minister said at least 5 were dead.
On his official Twitter account, Bahamas' Prime Minister Hubert Minnis called the devastation 'unprecedented'.
Speaking at a news conference on Monday, Florida Governor Ron DeSantis asked his state's residents to comply with evacuation orders. "Get out now that you have time," he said.
Dorian, now a Category 3 storm on the five-step Saffir-Simpson Wind Scale, weakened on Monday but is still expected to drift to the northwest late on Tuesday and stalk the coasts of Florida, South Carolina, and Georgia, said the US National Hurricane Center (NHC) said.
Strong gusts and high surf were already being reported along Florida's east coast as the hurricane was about 170 km from West Palm Beach, the NHC said.
The National Oceanic and Atmospheric Administration's satellites captured some images of the hurricane early on Monday morning.
The site Windy.com is live tracking the route the hurricane is following as it approaches the coast of Florida.
Nine counties in Florida have issued mandatory evacuations. They included parts of Duval County, home to Jacksonville, one of Florida's two biggest cities, and some areas in Palm Beach County, home to Trump's Mar-a-Lago resort.
Airports on Florida's east coast have also closed due to the storm, causing havoc for travellers.
Orlando International Airport, one of the largest in the state, planned to cease commercial operations early on Tuesday because of the storm, it said in a statement.
Walt Disney World Resort in Orlando will close early on Tuesday, it said in a statement.
Delta Air Lines said it cancelled 55 flights scheduled for Monday and Tuesday after airports in Fort Lauderdale, West Palm Beach, Melbourne and Daytona Beach closed.
American Airlines said operations had been suspended at seven airports in Florida and the Bahamas, and a travel alert issued for more than 20 airports including in Georgia, North Carolina and South Carolina.
South Carolina Governor Henry McMaster ordered mandatory evacuations for parts of eight coastal counties effective at noon local time (6 p.m. CEST) on Monday.
Georgia Governor Brian Kemp also ordered evacuations in all or parts of six coastal counties also effective on Monday.
Watch back: Hurricane Dorian hits the Northern Bahamas