Brexit: What might happen in the biggest parliamentary week for decades? Here's Wednesday
Comments
By Euronews & Reuters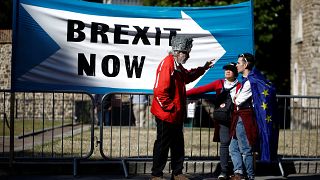 Copyright

REUTERS/Henry Nicholls

-
Britain's parliament opens Wednesday with MPs expected to pass a law forcing Boris Johnson to rule out a no deal Brexit.
On Tuesday night, 328 MPs voted to take control of the parliamentary agenda in a bid to stop a no-deal Brexit, with 21 Conservatives rebelling and subsequently being thrown out of the party.
Johnson said he would ask the House of Commons Wednesday to vote in favour of a general election, which would be held before a critical European summit on October 17.
To do so, he needs a two-thirds majority in parliament - problematic, given that on Tuesday he turned a parliamentary majority of plus one into a minority of minus 20.
Labour leader Jeremy Corbyn, backed by other opposition figures, said that while he wanted an election, he would not vote in favour until Johnson ruled out no deal.
In that, Johnson could be facing a hat-trick of defeats, first last night, then the extension bill, and finally on calling an election.
Johnson has publicly said that he will not ask Brussels for a Brexit extension beyond October 31 - but his opponents will only vote for an election once no deal is ruled out.
In that, parliament could be faced with a good old-fashioned standoff.
At 1 pm CEST, Johnson is scheduled to have Prime Ministers Questions, which could be explosive.
Also on the schedule is Chancellor Sajid Javid announcing a spending review, which includes £2 billion for Brexit-related projects.
But the key vote Wednesday will be on extending the Brexit deadline to rule out no-deal.
It is possible to pass a bill through all the required stages in the House of Commons in a single day. It will probably require several votes, and is likely to be subject to wrecking attempts by the government.
It will then go to the House of Lords, where there is no time-limit on debates, raising fears that Lords could filibuster the bill. But on Tuesday the Lords agreed to vote on the law by September 9.
Parliament is still scheduled to be suspended next week ahead of a Queen's speech on October 14.