Police unsure if Dayton, Ohio gunman targeted sister in mass shooting
Comments
By David K. Li with NBC News U.S. News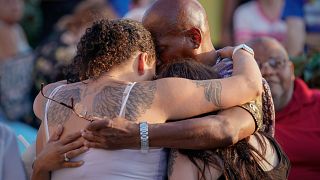 Police still don't know whether the gunman who murdered nine people and wounded dozens more in Dayton, Ohio, over the weekend targeted his sister in the shooting spree, authorities said Monday.
A visibly frustrated Dayton Police Department Chief Richard Biehl said, even 34 hours after Connor Betts started firing, that detectives are not sure if 22-year-old Megan Betts was an intended victim.
"It's a question I've asked more than once," Biehl told reporters. "And I don't think we can know that for certain."
Dayton's police chief admitted he's gone back and forth, trying to get inside the mind of Betts, 24, who was killed by police.
Biehl was asked specifically if Megan Betts could have been caught in the spray of bullets — and the chief could not rule that out.
"It seems to just defy believability he would shoot his own sister, but it's also hard to believe that he did not recognize that was his sister" in the path of gunfire, Biehl said.
Betts opened fired in a crowded entertainment district in downtown Dayton in the early morning hours of Sunday, killing nine and injuring at least 27.
Police are still far away from establishing a motive.
"Not close enough, not close enough at all," Biehl said.
In addition to Megan Betts, the others killed on Sunday were Lois Oglesby, 27; Saeed Saleh, 38; Derrick Fudge, 57; Logan Turner, 30; Nicholas Cumer, 25; Thomas McNichols, 25; Beatrice Warren-Curtis, 36; and Monica Brickhouse, 39.
Six of nine slain are African American but police still can say whether race could have been a motivating factor.
"We have a lot of evidence still to go through," Biehl explained. "Just based on where we're at now, we are not seeing any indication of race being a motive. But we are not through all the evidence. And so until we're through all the evidence, we cannot rule that out. But I'm saying we're not seeing any at this time to suggest race is a motive."
Betts was shot dead by police just outside Ned Peppers Bar.
The gunman was armed with magazines, that if all full, would have carried 250 rounds, police disclosed on Monday. Police said they've recovered at least 41 shell casings fired by Betts.
The carnage in Dayton came about 13 hours after Patrick Wood Crusius, 21, allegedly opened fire at a Walmart in El Paso, Texas, and left 21 people dead and more than two dozen injured.