British military helping shore up damaged dam as risk of flooding of UK town rises
Comments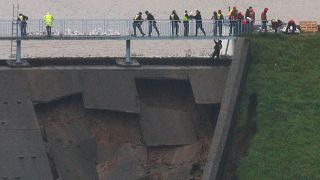 Copyright

REUTERS/Phil Noble
A British military helicopter dropped bags of ballast onto the outer slope of a dam that partially collapsed and risks bursting and flooding the town of Whaley Bridge in Derbyshire, central England.
Police evacuated thousands of residents out of the English town on Thursday after the dam was badly damaged by heavy rain. 
Authorities warned that subsequent flooding could be life-threatening.
Videos shared on social media showed water pouring out from the Toddbrook Reservoir located above Whaley Bridge.
Authorities told locals to leave the town and to take their pets and any medication they needed with them after the wall of the reservoir became damaged.
"Residents who have been at work, or away from the Whaley Bridge area, are strongly advised to stay away from the area following advice from the Environment Agency who have indicated that the incident currently poses a significant threat to life," Derbyshire Police said.
Prime Minister Boris Johnson said the environment minister would chair a government's emergency committee meeting on Friday to coordinate the response.
Police said a Royal Air Force Chinook helicopter was moving 400 tonnes of sand, gravel, and stone mixture onto the reservoir wall to reinforce it. Engineers have also been pumping water out of the reservoir.
"Our message today remains the same: As there is still a risk the dam will fail, please stay away from the area," said Kem Mehmet, the assistant chief constable of Derbyshire police.
"We have evacuated more than 1,000 people from the areas that would be immediately affected by floodwater should the wall fail."
Britain's Environment Agency issues a severe flood warning for the area, saying river levels in the River Goyt could rise quickly.
Heavy rain in the last couple of days has led to flash floods in northern England. They have caused bridges to collapse and road closures. Britain's Met Office said on Wednesday downpours had led to 50 mm of rain falling in just one hour.
Want more news?