Trump settles on name for horse gifted by Mongolian president: 'Victory'
Comments
By Lauren Egan with NBC News Politics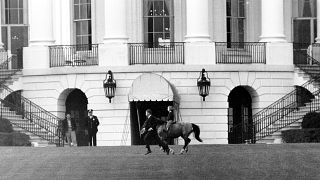 -
President Donald Trump said Wednesday that the horse gifted to the president's 13-year-old son Barron by Mongolian President Khaltmaagiin Battulga would be named "Victory."
"Thank you very much for the horse," Trump said to Battulga, as the two leaders walked from the White House residence to the Oval Office for a meeting on Wednesday.
Trump said he had seen a picture of the animal, calling it "beautiful."
Landlocked between China and Russia, Mongolia is known for their breed of small but tough war horses that were historically ridden by fighters such as Genghis Khan.
Horses are incredibly significant, in Mongolian culture and it has become traditional to offer them as gifts to U.S. dignitaries.
During a trip to Mongolia in 2011, Vice President Joe Biden was given a horse, which he named "Celtic." And in a trips made by defense secretaries Donald Rumsfeld and Chuck Hagel, they named their gift horses "Montana" and "Shamrock," respectively.
Although Barron Trump is the most recent American to receive a Mongolian horse, history suggests it is unlikely that the gift will actually make its way to Washington: Biden, Rumsfeld, and Hagel all left theirs in Mongolia.
When President George Bush visited in 2005 shortly after Rumsfeld, his administration worked to make sure that the Mongolians would not offer the president a horse, hoping to avoid the awkward optics of leaving the animal behind.
"I'm here on an important international mission," Bush said during his speech in Mongolia. "Secretary Rumsfeld asked me to check on his horse."
Transporting a horse all the way from Mongolia to the U.S. presents obvious logistical challenges. There is also concern over maintenance of the horse, which could fall on the shoulders of taxpayers.
Victory isn't the first pony presented to a presidential child.
Macaroni, a gift from Vice President Lyndon B. Johnson to five-year-old Caroline Kennedy, would frequently visit the White House grounds during her father's presidency, but was boarded at the Kennedys' nearby estate in Virginia.