US rapper A$AP Rocky pleads not guilty in court
Comments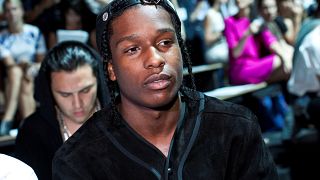 Copyright

REUTERS/Andrew Burton/File Photo
American rapper A$AP Rocky pleaded not guilty to a charge of assault on the first day of a trial in Sweden in which US President Donald Trump intervened on the artist's behalf.
The 30-year-old performer, producer and model, whose real name is Rakim Mayers, was detained following an altercation with two men on June 30 and later charged with assault causing bodily harm.
A teenager told the Swedish court that Mayers had kicked and punched him and two of his entourage outside a hamburger restaurant in Stockholm.
Prosecutor Daniel Suneson used evidence from security cameras and witnesses' mobile phones to prove Mayers had thrown 19-year-old Mustafa Jafari to the ground, after which two of his entourage kicked and punched him.
Jafari told the court he was pushed and grabbed by the neck by Mayers' bodyguard and that when he followed the rapper's group to get back his headphones he was hit with a bottle and kicked and punched while on the ground.
"We did not want to fight," Jafari said. "I said to them I was a nice guy, not a bad guy. I did not touch any of these three."
"Rakim Mayers thought that these people .. were attacking his bodyguard and it is on those grounds he subsequently acts," Mayers' lawyer Slobodan Jovicic told the court.
The artist will be questioned once the trial resumes on Thursday.
Presidential interference
US President Donald Trump publicly called for his release on Twitter and also spoke to Swedish Prime Minister Kjell Stefan Löfven about the case.
However, his demands were rebuffed by the Swedish government, with a spokesperson saying the government would not get involved in the case.
Mayers has said he is innocent and that the men provoked him and his two companions who have also been charged with assault. If convicted, they could face up to two years in jail.
His lawyer said the rapper would plead not guilty at the trial when it begins on Tuesday.
"Mayers is extremely marked by the time he has been detained. It is tough to be basically isolated," lawyer Slobodan Jovicic said at a news conference.
"We have to be humble but I definitely think there are grounds for an acquittal," he said, adding that he would seek a sentence of less than 2 years.
Mayers, who was in Stockholm to perform at the Smash hip-hop festival, was forced to cancel several shows scheduled as part of his Europe tour because of his detention.
The rapper's incarceration sparked an outpouring of support from US stars including fellow rappers Quavo and Diddy, model Kendall Jenner, and actress Jada Pinkett Smith.
More than half a million people, including fellow artists Nicki Minaj and Post Malone, signed an online petition calling for his release on bail.