Dozens die in suspected arson attack in Japan, marking country's worst mass killing in decades
Comments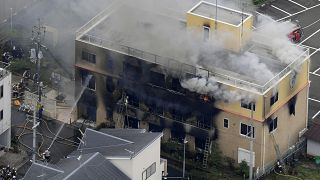 Copyright

Mandatory credit Kyodo/via REUTERS
Dozens of people have died following a suspected arson attack on an animation studio in the Japanese city of Kyoto, officials have said.
At least 33 people died in the incident on Thursday morning and 10 were left in a critical condition, making it Japan's worst mass killing in almost two decades.
According to Japanese reports, a 41-year-old man was taken into custody after the suspected attack.
He was described by one witness as being "discontented" and appeared "to get angry" as he poured what is believed to be petrol around the three-storey building shortly after 3am CEST.
He allegedly shouted: "Die!" and claimed he had been plagiarised, but did not elaborate.
Earlier in the day, the suspect was spotted on CCTV arriving at a petrol station with two 20-litre containers - two containers were among the items found next to the torched building during the police investigation.
A rucksack, trolley and what appeared to be five long knives were also discovered.
Little is known about the unidentified suspect, who is being treated for serious burns to the face and legs.
Japanese broadcaster NHK said he had no connection to Kyoto Animation, and his driving license was registered to an address in a northern suburb of Tokyo.
Footage of the suspected attack showed smoke coming out of the windows of the building, with its facade turned black by the smoke.
"I heard the sound of fire engines and stepped outside my house, and saw big flames spewing out of the building," a man told NHK.
"The fire was raging hard. I saw red flames flaring."
Japan's prime minister Shinzo Abe tweeted his condolences, stating the suspected arson was "too appalling for" words.
The studio which produces several well-known anime series such as "The Melancholy of Haruhi Suzumiya" and "K-ON!" has not published a statement yet.
Animation fans gathered round the building on Friday morning to lay flowers and pay respect to those who died.
Yuichi Kumami, 27, told Reuters that he found it "hard to put into words" how he felt, having taken time off from his job in Osaka to visit the site.
"They may not be able to produce the same kind of works again and it was my hope that there would be more memorable works in the future, but that may be impossible now and that is very saddening," he said.
Thursday's fire marked the worst mass killing in Japan for almost two decades, following another suspected arson attack in Tokyo in 2001 that killed 44 people.
Want more news?