R. Kelly's federal charges say he took underage girls over state lines for sex
Comments
By Jonathan Dienst and David K. Li and Minyvonne Burke with NBC News U.S. News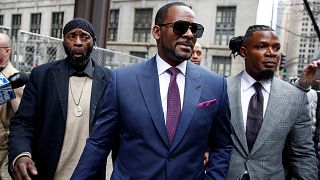 Copyright

Kamil Krzaczynski Reuters file

-
Singer R. Kelly who already faces state sexual-abuse charges in Illinois has now also been hit with 18 federal charges, including for allegedly taking underage girls over state lines for sex, according to indictments unsealed in New York and Chicago on Friday.
The 52-year-old R & B star was walking his dog in Chicago on Thursday and smoking a cigarette when he was arrested for federal indictments that say Kelly and his employees recruited women and girls to engage in illegal sexual activity with the performer and paid victims and witnesses to cover up his crimes.
An indictment unsealed Friday in the Eastern District of New York includes five criminal counts, including for racketeering, transporting underage girls for sex, and sexual exploitation of a child.
It says that once Kelly had convinced victims to be with him they "were not permitted to leave their room without receiving permission from Kelly, including to eat or go to the bathroom."
Victims were also told to keep their heads down, to avoid eye contact with other men and "were required to call Kelly `Daddy,' " according to the New York indictment, which involves five unidentified victims.
"Kelly and the other members of the enterprise travelled throughout the United States and abroad to perform at concert venues, to promote the R. Kelly brand and to recruit women and girls to engaged in illegal sexual activity," the New York indictment says. It also alleges he engaged in "sexual activity with girls under 18 years old, engaging in and facilitating sexual activity without disclosing a sexually transmitted disease Kelly had contracted and producing child pornography."
In Chicago, he was hit with 13 federal charges, including for sexual exploitation of children and possession of child pornography.
The singer's defence lawyer, Steve Greenberg, said in a statement on Friday that the federal charges stem from "decades-old" allegations that "he was acquitted of" previously. He didn't elaborate.
Kelly just wants to make "wonderful music and perform for his legions of fans that believe in him," Greenberg said.
The federal indictments come as Kelly faces state prosecution in Illinois. He was charged in February with aggravated sexual abuse involving four women, three of whom were minors when the alleged abuse occurred. Kelly has pleaded not guilty to these charges.
In May, he was charged with 11 more state counts of sexual assault and sex abuse in Illinois, according to court documents. He pleaded not guilty to those charges.
Allegations of sexual misconduct against Kelly gained renewed interest following the release in January of a six-part Lifetime documentary series, "Surviving R. Kelly," which detailed a number of women's claims that they were sexually, physically and mentally abused. Kelly denied all of those accusations.
In 2008, a Cook County, Illinois, jury acquitted Kelly of child pornography charges stemming from a video that prosecutors said showed him having sex with a girl as young as 13. The young woman denied that it was her in the video and didn't testify.
The parents of Joycelyn Savage, a woman who has been staying with Kelly, claim the singer has brainwashed their daughter and is holding her. The family hopes the new charges against Kelly will prompt reunion with Joycelyn.
"They feel vindicated. They feel eager to meet with their daughter and get back to a regular, normal life," family lawyer Gerald Griggs told NBC News on Friday.
"We're glad that the victims' voices are finally being heard and justice will be served in this case," Griggs said.