Sharp rise in Amazon deforestation in Brazil under Bolsonaro
Comments
By Euronews & Reuters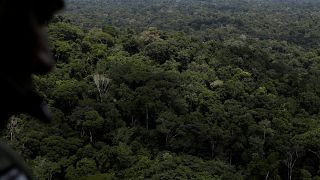 -
Deforestation in Brazil's portion of the Amazon rainforest soared 88.4% in June compared to the same month last year, totalling a loss of a whopping 920 square kilometres of green cover. The numbers were released by Brazil's National Institute for Space Research.
Brazilian president Jair Bolsonaro seems to disagree with the findings. During a meeting with the Parliamentary Agricultural Front (FPA) on Thursday in Brasilia, he suggested that Emmanuel Macron and Angela Merkel fly over the Amazon, challenging them to see for themselves the actual deforestation:
"I invited him (Emmanuel Macron) and Angela Merkel to fly over the Amazon and, if in a space between Boa Vista (city, in Roraima state) and Manaus (a city in the Amazonas state, all in the Amazon area) they see 1 km square of deforestation, I would agree with them. But, I told them that I flew over Europe twice and I have not seen 1 km square of forest in that region, so, they don't have any authority to debate that issue with us".
The findings come two months after the forest destruction began to make way for Bolsonaro's development plans. Already in May, deforestation was up 34% as compared to last May.
The agency measures annual activity from July to July. Although the June data is preliminary, it is indicative of the official annual figure based on more detailed measuring, which is likely to surpass last year's by leaps and bounds. As shown in this picture, some areas in the Mato Grosso region are now used for agriculture:
Over the past 11 months, deforestation has already reached 4,565 square km, a sharp 15% over the same period last year.
Brazil is home to 60% of the rainforest, and thus has a crucial role to play in the global fight against the climate crisis. The situation has worsened under Bolsonaro, who has repeatedly called for the development of Amazon. He has also been a strong critic of Ibama, the country's environmental agency, and has condemned it for handing out too many fines.
"We are adopting all measures to combat illegal deforestation," Environment Minister Ricardo Salles told Reuters. "This week we had 17 enforcement teams simultaneously in all of the Amazon from Ibama."
Want more news?