Jair Bolsonaro: Brazil's new president calls for country to be freed of corruption and crime
Comments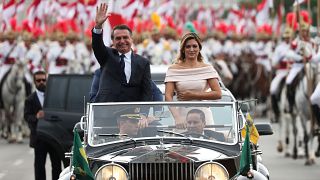 -
Copyright

REUTERS/Ricardo Moraes
Jair Bolsonaro, the new president of Brazil, opened his inauguration speech on Tuesday with strong words against corruption and crime — two key issues he raised during his election campaign.
He said he will prioritise the fight against crime in a country that has long reported high annual homicide rates.
The event took place in the capital city Brasilia, which was under tight security at Bolsonaro's request.
At least 3,000 police patrolled the area and military tanks, jets and anti-aircraft missiles were deployed.
You can re-watch the inauguration in the player above.
Bolsonaro: What you need to know
The former army captain is an admirer of US President Donald Trump and swept to victory on a wave of anti-establishment anger to become the country's first far-right president since the last military dictatorship three decades ago.
Following his inauguration, Trump congratulated him on Twitter, writing: "The USA is with you".
Bolsonaro responded that he appreciated Trump's "words of encouragement".
"Together, under God's protection, we shall bring prosperity and progress to our people!" he wrote.
Among Bolsonaro's cabinet are former army officers, mostly fellow cadets at the Black Needles academy, Brazil's West Point, all outspoken backers of the country's 1964-1985 military regime.
Bolsonaro is also committed to deregulation and fiscal discipline, which he regards as essential to crack down on political corruption and violent crimes.
Internationally, Bolsonaro intends to move Brazil away from developing nation allies and closer to the policies of Western leaders, particularly the Trump administration.
One recent sign that he will follow through on that policy is his announcement that Brazil's embassy in Israel will move from Tel Aviv to Jerusalem, breaking with the country's traditional support for a two-state solution to the Palestinian issue.
A divided Brazil
Although Bolsonaro is backed massively by conservative sectors of Brazil and much of the business community, his policies have polarised the country.
His law-and-order rhetoric and plans to ease gun controls have resonated with many voters, especially in Brazil's booming farm country.
But his vow to block moves to legalise abortion beyond even the current limited exceptions and remove sex education from public schools, opposing what he calls "cultural Marxism", has angered many progressives.
The 63-year-old has faced charges of inciting rape and for hate crimes because of comments about women, gays and racial minorities.
Environmentalists have also been alarmed at Bolsonaro's vow to follow Trump's example and pull Brazil out of the Paris Agreement on climate change.
So have his plans to build hydroelectric dams in the Amazon and open up to mining the reservations of indigenous peoples who are seen as the last custodians of the world's biggest forest.