US threatens €3.5bn extra tariffs on EU produce over aircraft subsidy dispute
Comments
By Rachael Kennedy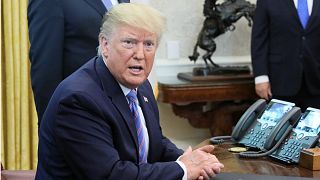 Produce from the EU being exported to the US could be facing additional tariffs costing billions of euros, according to a US government statement released on Monday.
The US Trade Representative (USTR) threatened the extra duties on EU produce, saying it was in response to a long-running dispute on subsidies placed on large passenger aircraft.
There were 89 "subheadings" of products listed for the potential new tariffs, which the USTR estimated to be worth $4bn (€3.5bn).
This comes in addition to a list published in April, of which the extra tariffs were estimated to be worth $21bn (€18.5bn).
"USTR is adding to the initial list with the supplemental list in response to public comments and additional analysis," the department said.
Items on the list published on Monday included:
Hams

Pork sausages

Milk

Dairy spreadables

Cheese - gouda, edam, romano, reggiano, provolone, blue-veined cheese, parmesan, etc

Olives

Fruit

Coffee

Pasta

Waffles and wafers

Mixed condiments and mixed seasonings

Whiskeys
WATCH: Euronews business editor, Sasha Vakulina's report on the new EU tariffs threat:
Want more news?