Watch:Tens of thousands rally in Prague in biggest protests since Velvet Revolution
Comments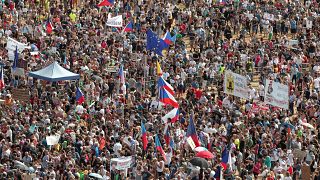 -
Tens of thousands rallied in Prague on Sunday to demand the resignation of Czech Prime Minister Andrej Babis in the biggest public confrontation with the government since the 1989 Velvet Revolution.
Organisers said they believed that about 250,000 people had attended the rally, from all around the country, but this figure could not be verified.
Some carried banners saying "Resign", "We've had enough", and others waved Czech or EU flags. Many families brought children to the protest, which was peaceful so far as were other recent protests against both Babis and his justice minister.
Some 400,000 have signed a petition calling on the embattled populist billionaire to step down amid multiple scandals.
The protest follows a wave of massive street rallies across the country, following the recent appointment of a new justice minister at a time when prosecutors have to decide whether to indict Babis over alleged fraud involving European Union funds.
The protesters fear the activities of the minister might undermine the independence of the country's legal system.
Filip Rubas, who joined protests in 1989 against the then communist regime, said he turned out on Sunday to send a message to politicians that they will be held accountable.
"We think that our leaders need to be reminded very strongly that they do not own our country, that they are not above the law (or constitution) and that there are still enough caring people who are not brainwashed by hateful propaganda," said Rubas, 50.
Sunday's protest was organised by civic group Million Moments for Democracy, founded by students.
Babis has dismissed the protests as "absolutely silly."
A preliminary European Union report that leaked in May concluded that Babis might be in a conflict of interest over EU subsidies for his former business empire.
Babis denied wrongdoing and attacked the EU for trying to destabilise the Czech Republic.
Yet the scandals have not harmed popular support for his anti-establishment ANO (YES) movement, which won in a landslide the 2017 parliamentary elections.
Want more news?