Iran: US sends more troops but Trump calls oil tanker attacks 'minor'
Comments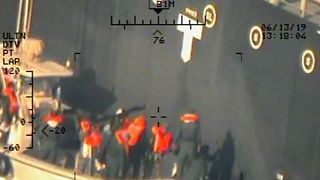 Copyright

U.S. Navy/Handout via REUTERS
Donald Trump described recent attacks on oil tankers near the Persian Gulf as "very minor" on Tuesday, even as White House officials announced an extra 1,000 troops to the Middle East amid increased tensions with Iran.
In an interview with TIME magazine, the president struck a very different tone from Pentagon and White House officials who released new photos purporting to show that members of Tehran's Revolutionary Guard were responsible for the tanker incidents.
Iran announced an escalation of its nuclear program on Monday, saying that within 10 days it will breach the limit on its stockpile of enriched uranium that was set under a 2015 nuclear deal with world powers.
Trump said he might take military action to prevent Iran from getting a nuclear weapon, but cast doubt on going to war to protect international oil supplies.
"I would certainly go over nuclear weapons," the president said when asked what moves would lead him to consider going to war with Iran, "and I would keep the other a question mark."
U.S. officials have blamed Iran for the attacks on tankers — one Norwegian and one Japanese — in the Gulf of Oman. Trump described those and previous similar incidents as limited. "So far, it's been very minor," he said.
Acting Secretary of Defense Patrick Shanahan said that the extra troops were in response to a request from U.S. Central Command for defensive purposes to address air, naval and ground-based threats in the Middle East.
"The recent Iranian attacks validate the reliable, credible intelligence we have received on hostile behavior by Iranian forces and their proxy groups that threaten United States personnel and interests across the region," Shanahan said. "The U.S. does not seek conflict with Iran."
The Pentagon released images, many taken from a U.S. Navy helicopter, showing what it said were Iranian forces removing an unexploded mine from the side of the Japanese-owned Kokuka Courageous oil tanker in the Gulf of Oman.
Other photos show a large hole on the side of the Courageous, above the water line, that officials say appears to have been caused by another similar mine.
The release of the photos came as the U.S. works to convince members of Congress and allies that the accusations against Tehran are true.
Iran has denied involvement in the tanker attacks and has accused America of promoting an "Iranophobic" campaign. Tehran, however, has repeatedly threatened to close the vital Strait of Hormuz, through which 20% of the world's oil flows.
Some European allies have called for a careful investigation of responsibility, worried that the U.S. is escalating tensions with a country President Donald Trump has long called a top enemy.
Secretary of State Mike Pompeo said he made a number of calls Sunday and Monday to international leaders, trying to convince them that keeping the Strait of Hormuz safe and open is a problem they all must deal with.
Relations between the U.S. and Iran have deteriorated in recent months, as the Trump administration restored crippling sanctions and designated the Revolutionary Guard as a foreign terrorist organization.
That increased pressure preceded a string of attacks that the U.S. has blamed on Iran. In late May, four oil tankers off the coast of the United Arab Emirates were attacked with what appeared to be mines, and there was a rocket attack in Baghdad. Last week, similar attacks were launched against the Courageous and the Norwegian-owned MT Front Altair in the Gulf of Oman.
The U.S. military has also accused Iranian Revolutionary Guard troops of trying but failing to shoot down a U.S. drone to disrupt surveillance of the tankers during the attacks.
Want more news?