Germany leads European efforts to ease tensions between US and Iran
Comments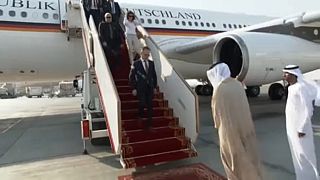 Germany is leading European efforts to ease tensions between the United States and Iran, but also to rescue the agreement that Tehran has signed with five world powers in relation to its nuclear programme.
Speaking in Abu Dhabi, en route to the Iranian capital, Heiko Maas, Germany's Foreign Affairs Minister highlighted the importance of the agreement.
"During the duration of our dialogue, the Europeans have always supported a common stance. We want to preserve this agreement. We have also reacted to the fact that the United States not only abandoned the agreement but also reintroduced sanctions," he said.
Heiko Maas will try to keep the agreement alive during his upcoming meeting with Iranian President Hasan Rouhani.
Germany, France and the United Kingdom say that the nuclear agreement remains the best way to restrict uranium enrichment by Iran and they're seeking an agreement with Tehran on other security issues in the future.