FCC votes to make it easier for phone companies to block robocalls
Comments
By Allan Smith with NBC News Politics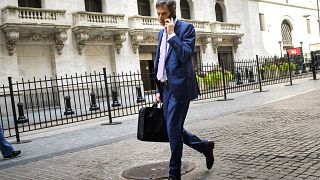 Copyright

Drew Angerer Getty Images file

-
Faced with mounting public pressure to take action against robocalls, the Federal Communications Commission on Thursday voted to make it easier for telecom companies to block suspected scam calls on their customers' behalf.
Companies like AT&T and Verizon can now, under the newly approved rules, automatically enroll their customers in their call-blocking services. Currently, customers have to sign up for the tools. Additionally, the FCC allowed major carries to create new tools giving consumers the ability to block calls from anyone who is not in their contact list.
"This action empowers providers to protect their customers from unwanted robocalls before those calls even reach the customers' phones," the FCC said in a release.
FCC Chairman Ajit Pai said the move would lead to consumers receiving fewer unwanted calls.
"If there is one thing in our country right now that unites Republicans and Democrats, liberals and conservatives, socialists and libertarians, vegetarians and carnivores, Ohio State and Michigan fans, it is that they are sick and tired of being bombarded by unwanted robocalls," Pai said in a statement.
But there was some push back to the proposal, which cleared the commission with bipartisan support. Democratic Commissioner Jessica Rosenworcel noted that the FCC did not require the telecom giants to offer the services free of charge, meaning phone companies could charge customers more on their monthly bill.
"I do not think that this agency should pat itself on the back for its efforts to reduce robocalls and then tell consumers to pay up," she said.
Politics
There was opposition to the change, too. Debt collectors, hospitals and other industries that use automated calling to reach customerslobbied the FCC not to enact the order because it could lead to lawful calls not reaching consumers because they were labeled as spam.
"I recognize that not everyone is a fan of our approach," Pai said, adding "that some who make legitimate calls have expressed concern about our decision today."
"But I believe that we've appropriately addressed their concerns by making clear that any reasonable call-blocking program offered by default must include a mechanism for allowing legitimate callers to register a complaint and for having that complaint resolved," he said.
Both the FCC and the Federal Trade Commission receive a mind-boggling number of complaints monthly from Americans who can't stand the growing scourge of scam calls. Last year, the FCC received 232,000 complaints regarding robocalls and telemarketing offers, while the FTC received more than 3.7 million robocall complaints alone. For both agencies, these complaints are the most frequent ones they receive.
In response to a Freedom of Information Act request from NBC News, the FCC last month provided nearly 200 robocall complaints from May 1. Those complaints showed just how fed up Americans are with the scam calls and how badly they want the government to take action against the perpetrators.
Meanwhile, in Congress, lawmakers are seeking to pass bills that would both push major telecom companies to better authenticate call sand combat call "spoofing," in which scammers trick a caller ID into believing that a call is coming from the recipient's area code, while also increasing penalties and fines that the FCC can levy for violations
Technological improvements have allowed for robocallersto target thousands of phones an hour with minimal effort. According to Hiya, a Seattle-based software company, Americans received a total of 26.3 billion robocalls in 2018, a 46 percent increase from 18 billion in 2017.