Germany's SPD appoints three temporary leaders after Nahles resignation
Comments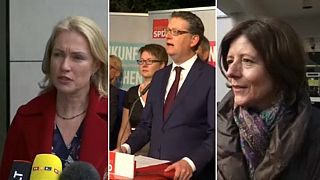 Germany's troubled Social Democrats (SPD) are in talks to appoint three temporary leaders following the resignation of Andrea Nahles in the wake of a poor showing by her party in last month's European elections.
SPD party chiefs met on Monday and proposed three caretakers to jointly lead the party while it takes time to settle on a new chief: Manuela Schwesig and Malu Dreyer, the premiers of the states of Mecklenburg-Vorpommern and Rhineland-Palatinate respectively, and Thorsten Schaefer-Guembel, who leads the SPD in Hesse, Reuters said, citing party sources.
The centre-left SPD party fell to third place behind Chancellor Angela Merkel's CDU bloc and the Greens in European Parliament elections.
Nahles said she would also resign as head of the party's parliamentary group as she did not have the support to lead it.
She took over as leader in February 2018, as the SPD reluctantly extended their "grand coalition" with Merkel's conservatives following a poor showing in the previous year's German national election.
Nahles had been due to face a vote on her leadership position on Tuesday after her decision to stay in the coalition was criticised by the party's left.