First female leader for Germany's Social Democrats
Comments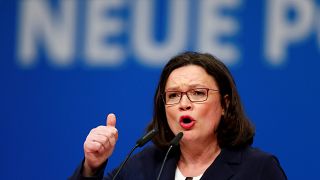 -
Copyright

REUTERS/Ralph Orlowski
Germany's Social Democrats have elected Andrea Nahles to be their first ever female leader. She won two thirds of the votes and defeated Simone Lange, the left-leaning mayor of the northern town of Flensburg.
The 154-year-old party which is a junior partner in Chancellor Angela Merkel's governing coalition, picked Nahles after former leader Martin Schulz resigned from the position after a poor election campaign
Andrea Nahles has promised to raise the profile of the party and turn its fortunes around.