Nigel Farage's Brexit Party biggest winner in UK's Euro election vote
Comments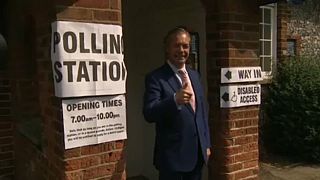 The electoral paradox of Britain's participation in European elections was evident in the results across the country.
Nigel Farage's Brexit Party was the largest single winner of the EU elections, receiving 31.7% of the vote and 29 seats in Britain's European election - making it the biggest UK party in the EU.
Both the governing Conservatives and main opposition Labour Party took a drubbing, losing most of the seats held since the last election.
"Terrible night for the Conservative party, but look at Labour as well. Look at what the Brexit party has done to Labour in Wales, in the north east of England, so this is a big, big message, a big wake up call to Westminster. Will they listen," said Nigel Farage.
But there was also a huge surge for the anti-Brexit Liberal Democrats, Greens and the Scottish nationalists as voters hardened their stance on the issue after three years of political deadlock.
The largest Remain party, the Liberal Democrats, who came second with 18.5% of the European election vote and even beat Labour in leader Jeremy Corbyn's north London base, insist that more people voted for Remain-supporting parties
But Farage, who won significantly more votes in the Euro elections than the Conservatives and Labour combined, argues the opposite, stating that if you count the Conservatives and UKIP, there are more votes on the Brexit side.
The initial political conclusions show there is huge pressure on Theresa May's Conservatives to proceed with a Brexit agreement, but Labour has also failed to meet the demands of its voter base for a second referendum.
The United Kingdom was due to leave the European Union on March 29 but Theresa May couldn't get the Withdrawal Agreement through parliament.
And after three defeats for her Brexit deal in Parliament, May threw in the towel on Friday, announcing that she will step down as party leader on June 7. Britain's new prime minister will be whoever wins the Conservative race to replace her.