Boris Johnson to seek Tory leadership as May plans exit
Comments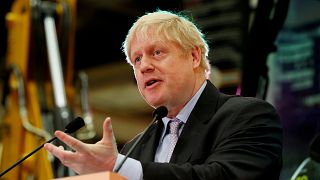 -
Copyright

REUTERS/Andrew Yates
Tory MP and Brexit campaigner Boris Johnson has claimed he will run for Conservative Party leadership, according to British media.
The announcement follows Prime Minister Theresa May's agreement to set a timetable for her departure from 10 Downing Street after her Brexit legislation returns to parliament for a final attempt in the week of June 3.
Johnson's declaration came after he was asked the question during an appearance at a British Insurance Brokers' Association event in Manchester.
"Of course I'm going to go for it," the BBC cited Johnson as saying.
After a meeting with the executive of the 1922 Committee on Thursday, the chairman announced May will discuss a timetable for the election of a new Conservative Party leader no matter what the result of a vote on the second reading of her Withdrawal Agreement Bill.
"We had a very frank exchange with the prime minister," Graham Brady told reporters after a meeting with May.
"We have agreed to meet to decide the timetable for the election of a new leader of the Conservative Party as soon the second reading has occurred and that will take place regardless of what the vote is on the second reading, whether it passes or whether it fails to pass."
The current conservative government is failing to win the support of the public, according to pollsters. An opinion poll recently published in The Observer newspaper showed that Nigel Farage's new Brexit Party is receiving more support than the Conservatives and Labour combined.
Boris Johnson resigned from his position as Foreign Secretary in July 2018. A Brexit hard-liner from the start, Johnson wrote in an open letter at the time of his resignation that under May, the Brexit "dream is dying, suffocated by needless self-doubt."
Also the former Mayor of London, he set out his pitch to the Conservative membership in a speech at the party's annual conference in October, with some members queuing for hours to get a seat.
He said the party should return to its traditional values of low tax, strong policing and not follow the policies of the Labour Party.
Often referred to simply as "Boris" his eccentric personality and ability to charm helped him shrug off a series of scandals, including his sacking from the party's policy team while in opposition for lying about an extra-marital affair.