Eurovision Song Contest 2019: Madonna to perform at final
Comments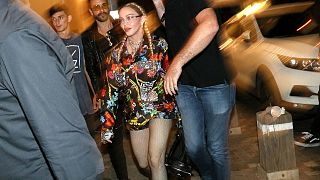 Madonna will perform at Eurovision 2019 — presenters cleared up doubts surrounding the singer's performance in Tel Aviv this week, confirming that the 60-year-old will indeed be singing at the event.
On Tuesday, Eurovision said Madonna might not perform at the song contest on May 18, stating the singer had not yet signed a contract with the European Broadcasting Union (EBU).
"If we do not have a signed contract, she cannot perform on that stage," Eurovision executive supervisor Jon Ola Sand said.
Rumours that Madonna would perform have been circulating for months, and in April, concert promoter Live Nation Israel wrote in a Facebook post that Madonna would indeed perform two songs.
But Eurovision said the EBU was still negotiating with the artist.
"We are negotiating now, in the final stage of that, but if there is no signed contract this week, she will not be on the stage," Sand said.
In her first comments since news developed that she would perform, Madonna said in a statement to Reuters that she would never, "stop playing music to suit someone's political agenda" nor "stop speaking out against violations of human rights wherever in the world they may be."
Israeli media reported that there was a question about whether or not her music would be appropriate.
Sand called the confusion around her appearance "strange".
"We have an artist who would like to participate in Eurovision Song Contest, we would love to welcome her on that stage, but for that, we need to have the framework secured," he said.
All doubts have now been set aside, however, and reports suggest Madonna is already in Tel Aviv.
This year's Eurovision Song Contest has been subject to boycott campaigns and controversy, especially after a recent escalation of violence in the Israeli–Palestinian conflict.
The competition — which last year drew 189 million viewers — will be co-produced by the European Broadcasting Union and Israeli public broadcaster KAN.
Security is being tightened in Tel Aviv, with an extra 8,000 police agents designated to safeguard the contest.