Road Trip Europe Day 20 Milan: 'Migrants are a burden for us, they should be equally divided'
Comments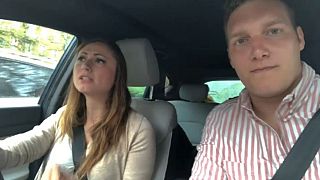 As we continue our road trip across Europe ahead of the EU parliamentary elections in May, our correspondents Jack Parrock and Elena Cavallone stop in Milan to hear which issues are getting local people talking. They found that migration is still a huge issue for the Italians - despite the number of people arriving from Libya by sea every year having drastically dropped.
Italy's far-right deputy prime minister Matteo Salvini has recently renewed his pledge to change Europe by building a right-wing coalition. But the opinions among people in Milan remain divided.
Some call the migrants a 'burden' that should be equally divided among all EU countries. "Once they are in the sea, you cannot let them die. But since they are a burden for us I expect that at least they are equally divided among all EU countries. Germany promises a lot and then they just leave them to us."
And the Italian government's plan to reduce migration by restricting access to public services are popular with many voters, although many others disagree. Criticism for the abolition of the humanitarian visa for migrants is fierce. The European Elections in May will gauge the sentiments of Italians towards how the government and the EU are dealing with migration.