NGOs slam EU-Turkey refugee agreement as non-viable and ineffective
Comments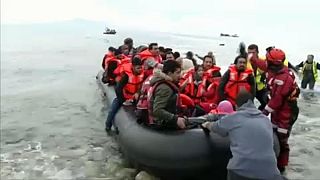 The agreement between the European Union and Turkey to control the flow of refugees has led to non-viable and ineffective policies and practices in Greece, according to the International Rescue Committee (IRC) and other NGOs, on the third anniversary of the agreement.
"Over previous winters we've seen thousands of very vulnerable people housed in flimsy summer tents in sub-zero conditions. We also see persistent overcrowding, particularly in the reception and identification centres, or the hot spots as they're known. So in the last summer, at the peak of overcrowding for example, we had 9,000 refugees housed in Moria on the island of Lesvos. This is a centre that's only made to house 3,000 refugees. So, as a result, we saw a significant lack of hygiene, a lack of running water and outbreaks of violence," said Imogen Sudbery, director of policy and advocacy at International Rescue Committee (IRC) in Europe.
The IRC says that all this could be resolved if EU member states shared the burden of hosting asylum seekers.
But the Hungarian government is ready for new battles in what it sees as a secret plan by Brussels to make the agreement compulsory at the United Nations for safe routes for migration.
"The battle has not yet finished. We are beginning a new battle. A battle against the secret plans of Brussels for migration," said Hungarian Foreign Minister Péter Szijjártó, speaking at a press conference in Brussels.
The IRC says the current situation can't go on and there are other solutions.
"Potentially we see the coalitions of the willing and between EU member states that do support responsibility sharing and know that this situation can't go on. And to put in place ad hoc solutions, but also we would welcome bilateral solutions like that recently proposed by Portugal to relocate 1,000 refugees from the Greek islands directly to Portugal," said Imogen Sudbery.
The ball is now in the court of EU leaders.