Climate campaign star Greta Thunberg 'will meet Macron' after Paris march
Comments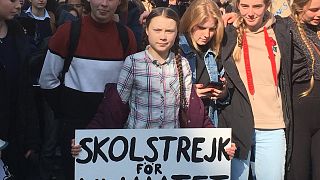 Swedish climate campaign star Greta Thunberg was set to meet French President Emmanuel Macron after joining thousands of people at a demonstration in Paris.
The 16-year-old, who has inspired a burgeoning protest movement in Europe and beyond, went to the Elysee with several other youngsters from Belgium, Germany and France.
Thunberg has become a celebrity by skipping lessons every Friday to protest over global warming outside the Swedish parliament.
"When I started the strike I didn't know what to expect," Thunberg said in Paris. "But it feels incredible and I wish that adults would take more responsibility."
"Kids shouldn't have to do this," she added.
Thunberg travelled to Paris after a day in Brussels on Thursday, which included another march and a speech in front of EU chief Jean-Claude Juncker.
Euronews journalist Cristina Abellan Matamoros, who was at Friday's march, said: "There's a lot of energy among the youth and older generations.
"The younger generations really want something to be done by politicians and they find it is a crime nothing is being done and want action now."
READ: Thousands of Belgian students are skipping class to protest against climate change
READ: Youth Strike 4 Climate: Thousands of UK students march for the planet