Snowed under? Norway police race each other using shields as sledges
Comments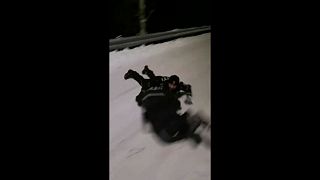 -
Police in Norway put themselves on a slippery slope by racing each other using their shields as sledges.
Officers in Heimdal went up against colleagues from Trondheim and then took to social media to share the footage.
"The everyday life of the police is often characterised by seriousness," Heimdal police wrote in a Facebook post, adding the race was held on a quiet night.
"Therefore, it is important to occasionally loosen a little on the tie, disconnect and have fun."
The video has been viewed on Facebook more than 30,000 times at the time of writing.