Pompeo says US must not let Russia 'drive wedge' between NATO allies
Comments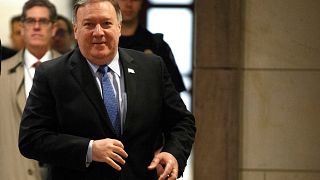 The US should not let Russian President Vladimir Putin "drive a wedge between friends and NATO", Secretary of State Mike Pompeo warned on Monday.
The politician made the remarks alongside Hungarian Foreign Minister Péter Szijjártó in Budapest.
Pompeo also said the US had been absent from central Europe for too long, which he described as unacceptable.
Speaking on the political crisis in Ukraine, Pompeo urged Hungary to support the country in its quest for independence.
Hungary depends on Russia for its energy and also benefits from Chinese investment.
Ahead of the press conference, Pompeo warned about the expansion of Huawei Technologies in Europe. The US alleges the telco is using spyware in its equipment. Huawei denies the allegations.
Earlier in the day Pompeo has also met with civil society leaders at the US Embassy where they discussed concerns over the rule of law in Hungary.
At the press conference Pompeo said the US is "increasing support to help Hungary in its fight against corruption strengthening law enforcement cooperation, and providing mentorships, training, and exchanges for independent media in all four Visegrad countries,"
Stefania Kapronczay, Executive Director of Hungarian Civil Liberties Union was at the meeting with the US Secretary of State and she told Good Morning Europe that the meeting was very important in terms of outcomes.
"From our perspective, the announced support for local media and for anti-corruption fight, including investigative journalism is a sign that the US is not only taking into consideration its national security and security concerns but also the core values that our relationship is built on," Kapronczay said.
Pompeo will also visit Slovakia and Poland this week.