Raw Politics: Will rising tensions between France and Italy boil over?
Comments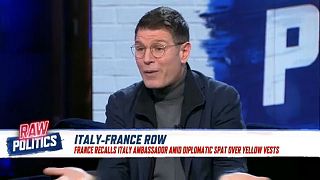 Franco-Italian relations further deteriorated this week when Italy's Deputy Prime Minister paid a visit to yellow vest protesters in Paris.
Luigi Di Maio later took to social media saying "The winds of change have crossed the Alps".
Ignazio Corrao, an Italian MEP from the Five-Star Movement accompanied Di Maio on his visit to France.
"What I think now is that Macron is just a little overreacting," Corrao said.
"We have no intention of intervening with the internal affairs of France as we don't want to interfere with internal affairs of any country of Europe."
France recalled their foreign ambassador to Italy on Thursday following the "unacceptable meeting" to discuss the "unprecedented attacks from Rome".
"I don't think Macron overreacted. I mean if you look at what Matteo Salvini, the Interior Minister said, that Macron was a very bad president," Euronews reporter Grégoire Lory responded.
Tensions between the two European countries have been on the rise for the past few weeks without an end in sight.