Europe briefing: five stories to know about today
Comments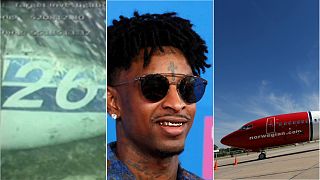 1. Body brought ashore from wreckage of Emiliano Sala's plane
Investigators have recovered a body from the wreckage of the aircraft carrying its pilot and Premier League footballer Emiliano Sala. British broadcaster Sky showed footage of a body bag being taken from the Geo Ocean III specialist search vessel at Portland harbour and placed in the back of a van.
However, British air accident investigators have yet to say whether the body was that of Sala, who had just signed with Premier League club Cardiff, or pilot David Ibbotson.
The Air Accidents Investigation Branch (AAIB) confirmed to Euronews on Thursday the operation took place under "challenging conditions," and that the body was now being transported to a coroner in Dorset.
However, further recovery efforts for the aircraft wreckage were called off due to poor weather conditions. | read more
2. Norwegian flight forced to land after receiving 'bomb threat'
A Norwegian flight en route from Stockholm to Nice on Thursday morning was forced to return to Stockholm following a "bomb threat."
The airline confirmed the incident in a statement on its website, and said the matter had been handed over to Swedish police. | read more
3. Jay-Z hires lawyer for British rapper 21 Savage in visa case
US rapper Jay-Z has hired a lawyer to assist in the case of Atlanta-based British rapper 21 Savage, who remains in custody following his arrest by US immigration on Sunday.
US lawyer Alex Spiro confirmed to Variety that Jay-Z had hired him for the case.
In a statement to Facebook, Jay-Z said the arrest was "an absolute travesty," adding that the Grammy-nominated rapper "deserves to be reunited with his children immediately." | read more
4. 1,200-year old Bible seized in Turkish anti-smuggling operation
A Bible thought to be 1,200-year-old has been recovered by Turkish police during an anti-smuggling operation, authorities have confirmed.
Police recovered the ancient manuscript on Monday in the country's south-eastern province of Diyarbakir after being informed that someone was trying to sell a book with religious scripture.
Three people were caught red-handed and a further three were arrested later, a statement from the province governorship said. All six remain in custody. | read more
Rescue workers continue search for survivors under rubble of collapsed Istanbul apartment block
5. An eight-storey apartment block collapsed in the Kartal district of Istanbul on Wednesday, killing at least two people.
Rescuers continued an operation overnight to find survivors amid the rubble that was once home to 43 people.
According to Istanbul Governor Ali Yerlikaya, the rescue work would continue "uninterrupted."
Turkey's Environment and Urbanisation Ministry was also monitoring surrounding buildings that were at risk following the collapse.
6. London and Brussels divided over Tusk "special place in hell" outburst
Donald Tusk's "special place in hell" outburst has provoked an angry reaction from Brexit supporters in the United Kingdom.
On Wednesday the European Council President said: "I've been wondering what that special place in hell looks like for those who promoted Brexit without even a sketch of a plan of how to carry it out safely."
All eyes are on Brussels today as UK Prime Minister Theresa May arrives in a bid to reopen negotiation on her Brexit deal. | read more
As it happened on Thursday, February 7
This is how we covered key developments this morning: