Pope says Catholic Church is weary
Comments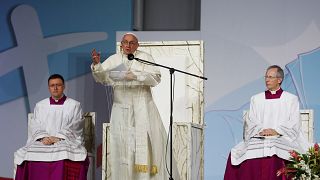 The Roman Catholic Church is weary. That's according to Pope Francis.
In a visit to Panama Cathedral, he made reference to the global sexual abuse crisis at a mass for priests and nuns.
He's called a summit next month with the heads of national Catholic churches at the Vatican about the serious issue.
Pope Francis says, "Brothers and sisters, the weariness of hope comes from seeing a Church wounded by sin, which so often failed to hear all those cries that echoed the cry of the Master: "My God, why have you forsaken me?"
His trip ended with a massive concert thanking World Youth Day volunteers before flying back to Rome.