Watch: Why is the FYR Macedonia name change deal so significant?
Comments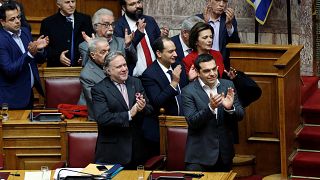 The agreement that will see the Former Yugoslav Republic of Macedonia (FYROM) change its name to the Republic of North Macedonia has been ratified in the Greek parliament.
Lawmakers voted by 153 to 146 for a deal that ends a decades-long dispute and could open the way for Skopje to enter the European Union and NATO.
Click on the player above to hear more on why this is so significant from our reporter Apostolos Staikos.