Former Scottish leader Salmond charged with attempted rape
Comments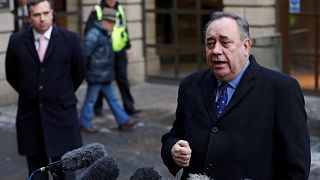 Scotland's former first minister Alex Salmond has been charged with multiple offences including two counts of attempted rape.
Scottish prosecutors on Thursday said Salmond, 64, had been charged with nine counts of sexual assault, two counts of attempted rape, two counts of indecent assault and breach of the peace.
Salmond, 64, said he had voluntarily gone to police on Wednesday after becoming aware of the investigation. 
He has insisted he is "innocent of any criminality whatsoever".
"I refute absolutely these allegations of criminality and I will defend myself to the utmost in court. I would love to say a great deal more but I've got to observe the rules of the court and in court is where I will state my case."
Salmond led the devolved Scottish government for seven years until 2014. He is credited with helping to push support for Scottish independence from the United Kingdom to record levels during the 2014 referendum campaign.