British pound hits two-month high against euro and US dollar amid Brexit uncertainty
Comments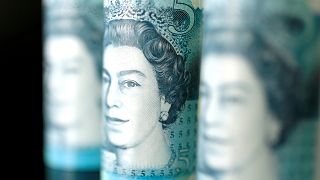 The British pound was Wednesday morning trading above $1.30 (€1.14), in a move that many currency analysts were linking to the possibility of the Brexit date being delayed becoming more likely.
In yet another attempt to avoid a no-deal Brexit, the Labour Party was expected to endorse a proposal to postpone the current deadline, which would see Britain leaving the EU — with or without a deal — on March 29.
Shadow chancellor John McDonnell said the proposal was a "sensible" way of preventing a worrying no-deal exit.
The currency market appeared to have reacted positively to the stalemate that has seen the British parliament in limbo since the January 15 vote.
The pound was now enjoying a two-month high against both the euro and the US dollar, probably boosted by a renewed optimism that British policymakers are considering active measures to avoid a no-deal Brexit.
Jeremy Stretch, head of Group-of-10 currency strategy at the Canadian Imperial Bank of Commerce, told Bloomberg there was a direct correlation between the pound's boost and the news that Labour is likely going to support a plan to delay the March 29 deadline.
The pound had already risen to €1.140 against the euro yesterday in the wake of new, unexpectedly positive employment and pay data published by the Office of National Statistics.
Yet, the ghost of a no-deal Brexit still loomed over the British economy: the past days have seen a series of damage-limitation measures announced as several companies decided to move their company headquarters abroad.
Sony declared it is going to move its HQ from London to Amsterdam, while Dyson announced a transfer to Singapore, although it cited "future-proofing reasons" that have "nothing to do with Brexit." Ferry-operating company P&O also confirmed that its entire fleet of cross-Channel ferries will soon be sailing under the Cypriot flag, as it activated its emergency Brexit plans.
Many were also observing the City of London with concern — the world's second-biggest financial centre as well as the country's most globalized industry in terms of workers' origins.
In a report published in early January, the consultancy firm EY estimates said its "Brexit Tracker" estimated financial services firms had moved almost £800 billion (around €919 billion) out of Britain since the 2016 vote.