DR Congo: Court rules in favour of Tshisekedi for president
Comments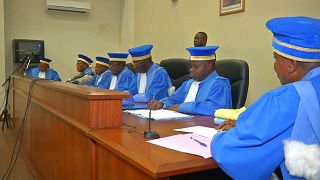 The President of Congo's constitutional court, Benoit Lwamba, has declared Felix Tshisekedi the winner of the presidential election.
Supporters welcomed the decision, based on a simple majority, which ruled on the outcome of the election on 30th December.
The result had been disputed by another opposition leader, Martin Fayulu, who claimed Tshisekedi had made a power-sharing deal with the outgoing president, Joseph Kabila.
Fayulu was quick to condemn the court's decision:
"I consider myself the only legitimate president of the Democratic Republic of Congo," he said.
"I call on the Congolese people not to recognise someone who would take on that role illegitimately nor to obey orders coming from him."
Kabila and Tshisekedi both deny making any deal but Fayulu has now called on his supporters to organise protests against the Tshisekedi government.