Brexit deal plan B: what happens now?
Comments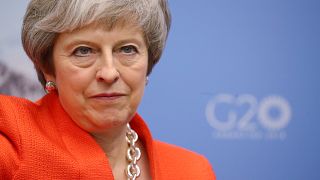 Copyright

REUTERS/Marcos Brindicci/Pool
Brexit has in some ways reached a stalemate in negotiations in the UK.
After UK Prime Minister Theresa May's Brexit deal suffered a historic parliamentary defeat, and May herself slimly survived a vote of no confidence in her government earlier this week, there was no time to waste in laying down the foundations of a Brexit plan B.
In order to resolve this, the government prepared to enter into cross-party talks.
But now Labour leader Jeremy Corbyn is refusing to meet May unless his conditions are met, and May is refusing to meet them.
So what happens now?
Transition period extension for a new deal
Britain is due to leave the European Union on March 29, 2019, but with this date looming in the near future and MPs unable to agree on a deal, the threat of a "no deal" scenario is becoming more likely.
May could therefore seek to extend Article 50, which would delay the date the UK leaves the EU and would give MPs more time to negotiate a plan B.
However, May said earlier this week that she did not believe the EU would agree to an extension without evidence of progress towards a new deal.
May hopes a new deal achieved via negotiations involving all parties would have a better chance of passing a vote in parliament.
In these cross-party talks, May will receive a lot of pushback on her 'red lines' on a single market deal and UK-EU customs union — something May has repeatedly ruled out.
However, with Corbyn currently boycotting talks until the prime minister can guarantee the UK won't leave the EU without a deal, and May maintaining it is not within her power to rule out such a scenario, these talks are currently a little stagnant.
Another vote of no-confidence
Theresa May has now survived two confidence votes.
The first was called back in December by rebels within her party, which she won comfortably. Following this, her party is unable to challenge her leadership for another 12 months.
Corbyn called the second vote of no confidence in her government following the defeat of her Brexit deal in parliament.
While May also won this round, parliamentary votes of no confidence are not restricted, and Jeremy Corbyn has not ruled out calling another when he believes the time is right.
If May loses a no-confidence vote, this could trigger a general election.
Broadly speaking, if a general election is called, which results in a change of leadership, anything from a second Brexit referendum to a no deal could happen.
In the event of either a second referendum or general election, the EU could again agree to extend Article 50 beyond March 29.
Amid all the confusion, a disorderly no-deal cannot be ruled out.
Euronews spoke with Pieter Cleppe, the head of Open Europe's Brussels office, back in December on the likelihood of a second referendum in the case of a new leader.
"Of course, it's possible, anything is possible, but we need a whole lot of conditions fulfilled first," he said.
The Labour Party needs to be in favour of that, which is still ambiguous.
May resigns
Losing a no-confidence vote would mount pressure on May to resign from her post.
A resignation would lead to a Conservative leadership election, in which two candidates would be picked out of a secret ballot.
Members of the Conservative Party, approximately 124,000 people as of March 2018, would then vote between the two candidates for a new leader.
However, May has so far remained resilient in the face of several votes in parliament and maintains she is committed to seeing through the delivery of Brexit.
No deal
If a no deal is reached and the transition period is not extended, the UK stands to crash out of the EU on March 29, which is an outcome neither side wants to see.
In a recent letter to her political rival, May appealed to Corbyn's judgement, outlining their joint desire to not allow the UK to leave the EU without a deal, and encouraged him to join talks.
In the EU, it is also not an ideal scenario, however, French President Emmanuel Macron pointed out "the first losers [of a no deal Brexit] are the British."