Jeremy Corbyn: Labour's Brexit deal would have no backstop
Comments
By Darren McCaffrey and Darin Graham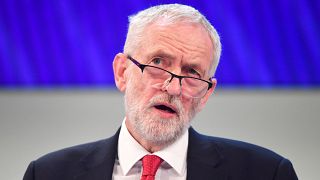 -
Jeremy Corbyn would negotiate a Brexit deal without a backstop, he told Euronews in an interview.
The leader of the opposition Labour Party said an agreement on a customs union that guarantees trade with the European Union must be made.
"There certainly wouldn't be a 'backstop' from which you can't escape," Corbyn said.
Corbyn said a Labour deal would not make Britain a poorer place.
His comments came after government analysts warned in a report that Britain would be poorer economically under any form of Brexit, compared with staying in the EU.
The figures say the UK economy could be up to 3.9% smaller under May's Brexit plan after 15 years.
"I wouldn't be interested in a deal that would make the country poorer," Corbyn said.
Read: What is in Theresa May's Brexit deal and why is it so unpopular?
The Labour leader refused to rule out campaigning for a second referendum in the future.
"To have a referendum there has to be a special legislation anyway, a special law passed," he said.
When asked if he would campaign to remain in the EU, Corbyn said it "depends what the agreement is at that time and deal had been reached with the European Union."
British members of parliament will vote on Prime Minister Theresa May's Brexit deal on December 11.
The vote will follow five days of debate over her withdrawal agreement.
Read: What could happen after MPs vote on the Brexit deal?
The Brexit backstop
Many MPs are frustrated that May has agreed a so-called backstop, which means that the UK will remain tied into some EU rules until it can find a solution to avoid a hard border between Northern Ireland and the south.
If the deal is voted down, the government will have 21 days to return to the Commons and set out what it plans to do next.
Speaking in the House of Commons last month, May said it was impossible for any future deal to be agreed without a backstop.
"Put simply, there is no deal that comes without a backstop, and without a backstop there is no deal," she said.
May has defended the benefits of her deal.
"Our deal is the best deal available for jobs and our economy, that allows us to honour the referendum and realise the opportunities of Brexit," she said at Prime Minister's Questions on November 28.
May denied her plan would make Britain poorer, insisting the economic analysis "does not show that we will be poorer than the status quo."