Moscow court extends detention of 4 Ukrainian sailors until April 24
Comments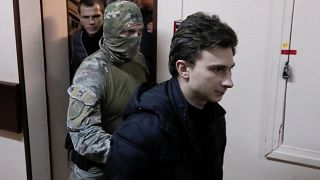 A court in Moscow has ordered the four of 24 Ukrainian sailors seized by Russia off the coast of Crimea in November to be held in pre-trial detention until April 24, according to the Russian news agencies RIA and Interfax.
Russia seized the men and captured three Ukrainian navy vessels on November 25 in the Sea of Azov, near Russian-annexed Crimea.
It is unclear at this stage if any others among the 24 will appear in court.
Footage thought to have been taken during the skirmish had been shared widely on social media.
The vessels were approaching the Kerch Strait when the tugboat was struck, damaging its engine, guardrail and outer shell.
Moscow accuses the sailors of illegally entering Russian waters.
Ukraine denies the allegation. Its navy said in November that Russia had seized the vessels in an "openly aggressive" manner.
The United States and European Union have called on Russia to release the men, but the Kremlin has said they must be put on trial.
However, no court date has been set so far.