Spain blocks rescue ship from leaving Barcelona port
Comments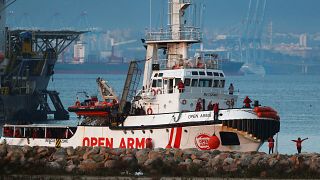 -
Spain is preventing an NGO rescue boat from continuing its operations in the Mediterranean by stopping it from leaving a port in Barcelona.
The Directorate General of the Merchant Marine, which operates under the Ministry of Development, said the Proactiva Open Arms ship cannot continue to operate after Italy and Malta closed their ports, meaning the vessel cannot dock at the port closest to where migrants are rescued, which is required by international maritime regulations.
The NGO wrote in a Tweet that the Spanish government had denied them the right to leave the Barcelona port because it said: "If states fail to fulfil their rescue obligations at sea, we are not allowed to protect lives either."
Founder of the NGO, Oscar Camps, criticised the move on Twitter: "Preventing us from saving lives is irresponsible and cruel."
The ship docked in the port of Algeciras in southern Spain on December 28 with more than 300 migrants on board. They were rescued a week earlier off the coast of Libya after Italy and Malta closed their ports.
After refuelling in Barcelona, the ship was due to sail on January 8, but port authorities prevented it from leaving, saying the NGO was violating international standards for maritime rescue operations, a spokeswoman for Proactiva Open Arms told AFP.
Euronews contacted Barcelona's maritime office, which confirmed it had temporarily denied the NGO's request to leave the port.