Northern Lights-seekers putting own lives at risk, say Iceland police
Comments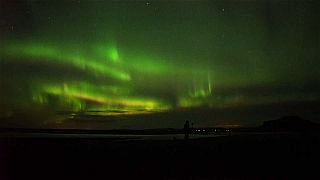 Police in Iceland say too many tourists put themselves at risk searching for the Northern Lights.
Tourists often take rugged mountain roads for a better view of the aurora borealis phenomenon.
Police say those scanning the sky and not the icy, bendy roads are putting their lives in danger.
"Weather and road conditions are one thing but it also comes down to very problematic behaviour with some tourist drivers. Like when hitting the break on the middle of a road for a sudden photo opportunity, with little or no warning for following drivers. In the dark, when the Northern Lights are out, this is an even greater hazard," says superintendent Johannes Sigfusson at the Akureyri Police Department, the largest in the region. "The weather and the road conditions change accordingly. It can go from being a dry road to being an icy and slippery road in a matter of minutes."