Brexit roundup: 6 stories you should read today
Comments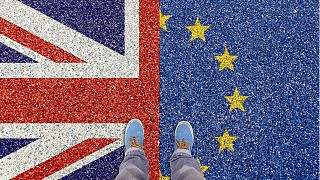 On the eve of the UK parliament's vote to either accept or reject Prime Minister Theresa May's Brexit deal, we have curated six of the day's top Brexit-related stories.
1. May warns of no Brexit if deal is rejected
Theresa May warned of a no-Brexit scenario if her deal is rejected in parliament tomorrow.
In a speech on Monday, May said a rejection would lead to one of two possible outcomes: "either a no-deal Brexit that would cause turbulence for our economy [...] or the risk of no Brexit at all."
A no-Brexit scenario would be "subversion of the democratic process," she warned.
Should MPs reject May's Brexit deal on Tuesday, the prime minister's leadership could be called into question.
Jeremy Corbyn has vowed to call a motion of no confidence in May's government, which, if backed, could eventually force a general election.
However, Northern Irelands' Democratic Unionist Party (DUP), the party supporting the Conservative's minority government, said it would not support a confidence vote from Labour.
Speaking with Sky News on Monday afternoon, the DUP's deputy leader, Nigel Dodds, said the party would prefer to seek renegotiations on the current deal.
READ MORE: Theresa May fears outcome will be 'a paralysis in parliament that risks there being no Brexit'
READ MORE: What could happen after MPs vote on the Brexit deal?
2. May changes speech after comments on Welsh devolution called into question
May dropped several comments ahead of Monday's speech after several scripted lines received widespread criticism of "complete hypocrisy."
She was due to use the 1997 referendum on the creation of the Welsh National Assembly as reason to support her Brexit deal, saying that the result was "accepted by both sides" and the "popular legitimacy of that institution has never seriously been questioned."
However, parliamentary records show that May voted to block the creation of the Assembly, despite the referendum results.
A 2005 Conservative Party manifesto also showed support for a second referendum giving Welsh voters the opportunity to decide on the future of its Assembly, including the decision to abolish it.
May changed the wording of her speech to a more limited phrase following the criticism.
READ MORE: May drops comments from Brexit speech after criticism of 'complete hypocrisy'
3. EU fears backstop letter will not be enough to get deal through parliament
A joint letter from EU Council President Donald Tusk and EU Commission President Jean-Claude Juncker was published to the UK government on Monday, aimed at providing reassurances over the Irish backstop -- the most contentious part of the Brexit deal.
It came in reply to a letter sent from Theresa May on Monday seeking such assurances.
The letter, which was posted to Juncker's Twitter account, said "if the backstop were nevertheless to be triggered, it would only apply temporarily, unless and until it is superseded by a subsequent agreement that ensures a hard border is avoided..."
However, senior sources in Brussels told Euronews that they were not optimistic that the letter would be enough to close the deal in the House of Commons on Tuesday.
READ MORE: Theresa May pens letter seeking assurances on Irish backstop
4. Conservative whip resigns over May's Brexit deal
Conservative MP Gareth Johnson publicly resigned from the UK government's Whips' Office on Monday over his disagreement with May's Brexit deal.
In his resignation letter, which was posted to Facebook, Johnson said he had tried to continue his government duties, despite his "personal objections to the agreement."
But "I have concluded that I cannot, in all conscience, support the government's position when it is clear this deal would be detrimental to our nation's interests."
5. Partner of UK minister sends 'inappropriate' message over Brexit vote
A UK minister revealed an "inappropriate" text message she received from the partner of a fellow minister on Monday, warning her against voting to reject Prime Minister Theresa May's Brexit deal.
Conservative MP Andrea Jenkyns tweeted a screenshot of the message she received, in which the unidentified sender vowed to "never forgive" her.
Jenkyns was not impressed by the message, saying she found it "inappropriate" that the "government [is] getting their loved ones to do their dirty work."
READ MORE: Partner of UK minister sends warning message to MP over Brexit vote
6. Snapped meeting notes of Conservative MP cause online stir
The succinct briefing notes of Conservative MP Mel Stride leaving Monday afternoon's cabinet meeting caused a stir online after his two-point piece revealed his thoughts on life in the UK after Brexit -- "no food" and "no channel tunnel."
Many were left confused over the notes, and whether this was really the time to make jokes.
Political sketch writer Tom Peck said Stride was "not widely known in Westminster as absolute king of banter and yet here he is walking out of 10 Downing Street, revealing briefing notes that read: 1. no food."
"It has got to be for lols, hasn't it? Hasn't it?"